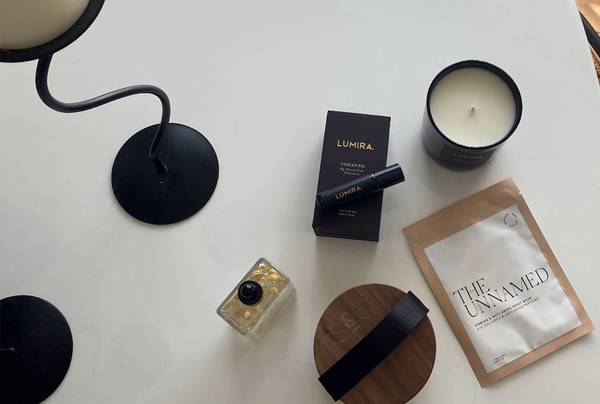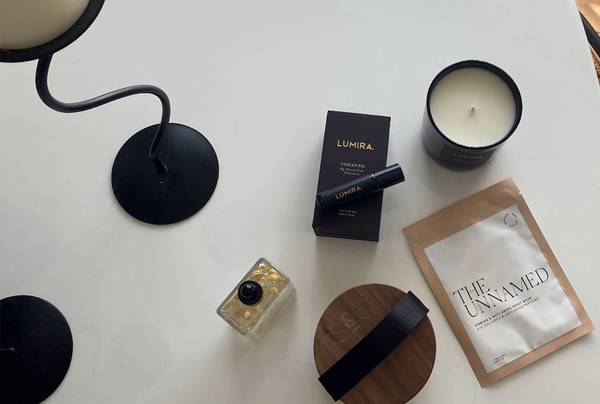 Don't wait for a special occasion or someone else: Spoil *yourself*. Taking care of yourself and indulging in your guilty pleasures shouldn't be a rarity, it should be a regular part of your beauty regimen. You should never feel guilty about treating yourself. 
From the simple act of brushing your hair to taking your self-care routine to the next level, these are our favourite luxury Australian beauty products. Just because. 
Base Camp Beauty Grand Comb Buttermilk
Spice up the mundane task of brushing your hair every day with this elegant comb made from premium quality polished Acetate in a stunning buttermilk tone. The wide tooth design prevents hair breakage for more luscious locks, too.
Vanessa Megan Beauty Vibe Micro Vibration Wand
Take your existing skincare regimen to the next level with this beauty tool. It uses advanced micro-vibration technology to help stimulate facial muscles and leave skin radiant and firm in as little as five minutes a day.
Lumira Arabian Oud Candle
Did you know that oud is one of the most expensive ingredients in the fragrance world? Rare and difficult to extract, its intense aroma is seductive and sophisticated, making it the perfect hero in your favourite candle for home. Paired with powdery rose, you'll quickly become addicted to lighting this luxe candle every chance you get.
Slip Silk Pillow Case
What could be more luxurious than getting your nightly beauty sleep on a silk pillowcase? You'll feel like you're sleeping on clouds - plus, you'll actually be doing your skin and hair a world of good since silk helps prevent wrinkles and frizz. 
Sodashi Eye Mask
Our eyes often get looked over when it comes to our skincare routines, but in reality they deserve to be the star of the show because they're the first place to show the signs of ageing. So, if you're going to do something right, do it properly. This eye mask is an indulgent treat for your peepers, with Damask rose, lavender and Roman chamomile to revitalise, repair and calm the delicate eye area while fighting the usual signs of ageing (dark circles, puffiness, wrinkles).
O&M Project Sukuroi Tube 
It doesn't get much more extravagant than recreating a glossy salon blow-dry at home whenever you want. This styling superbalm delivers a smooth and feather-like softness to hair in need of repair. It also adds gloss and shine as you blow-dry your hair for an expensive (yet effortless) finish.
Stass & Co The Body Brush
You never need an excuse to pamper yourself. But just in case you needed a little extra motivation, this body brush is a powerful detoxification aid that helps stimulates the lymphatic system and release toxins from the body. Need we say more?!
Grandiflora Queen of the Night Eau de Parfum
One of nature's most beautiful, most fleeting scents, the Queen of the Night flower only blooms for one night a year. Leading Australian florist Saskia Havekes has captured the essence of this unique natural beauty with this floral woody Grandiflora fragrance that features a crisp opening and a heady floral heart that develops into an alluring and intimate base.  
Base Camp Beauty Tiger's Eye Gua Sha
A gua sha tool has a way of upping your everyday skincare (and makeup!) routine and making your skin even glowier and plump. Plus, the ritual of massaging your facial muscles is pure heaven! This gua sha tool is handcrafted and made from a gorgeous Tiger's Eye gemstone for the ultimate Insta-worthy addition to your daily beauty regimen.