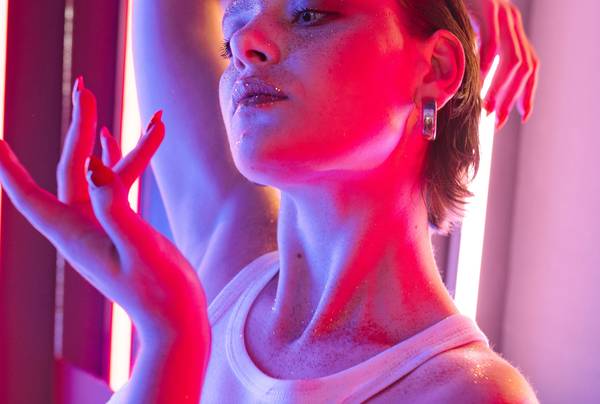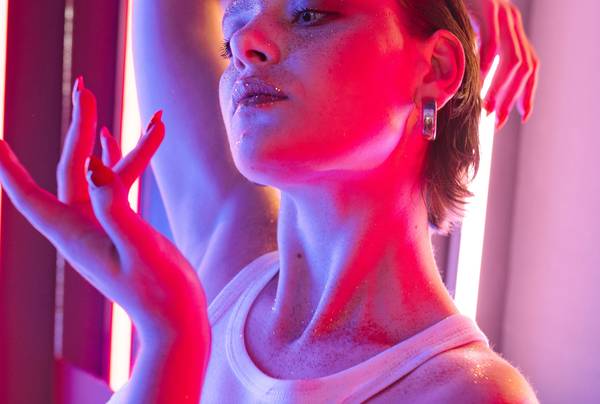 Words by Gabrielle Joseph
Scrolling through TikTok can be surprisingly therapeutic. It has a way of helping you switch off from your daily stresses while you mindlessly absorb an eclectic array of tips, tricks and lighthearted entertainment. And there's no need to feel guilty about wasting hours doing it, especially when it's beauty videos you're binging on. Because it's the perfect place to get your fix of the latest beauty trends - and learn a few nifty beauty hacks while you're at it.
Here are 22 viral TikTok beauty, health and wellness trends for 2022 that are worth knowing about. 
---
Siren Eyes
The siren eye is, technically speaking, a more sophisticated version of the cat-eye and fox-eye eyeliner styles. The goal is to accentuate how alluring the eyes are. When TikToker @DanielleMarcan provided a tutorial in response to fans' constant inquiries about her eyeliner, it was the first time we heard someone discuss siren eyes in particular. Her video, in which she demonstrates how she makes her round eyes appear more almond-shaped, has received an astounding 1.2 million likes and an impressive 8.3 million views.
'Clean Girl' Makeup 
The 'clean girl' look is the 2022 version of the 'model off-duty' or 'no makeup' makeup look. Basically, it's a natural makeup look that highlights your natural features and accentuates dewy glowing skin. Think fluffy, natural brows and tinted moisturisers paired with a gloss - rather than defined contour, smoky eyes and over-lined lips. 
Claw-grip hair accessories
Claw clips are the ideal complement to the 'clean girl' aesthetic. The claw clip is the one hairpiece that most embodies the phrase I'm effortlessly chic". More significantly, you can conceal the fact that you haven't washed your hair in days thanks to the bulky, wide-tooth hair clips.  
Baby Braids
It was only a matter of time before this cute design started making the rounds once more with the resurgence of several Y2K trends in recent years. Some of the most influential stars in the early 2000s promoted this hairstyle, and it is now making a complete comeback. Now, everyone is getting on board, including celebrities like Gigi Hadid, Hailey Bieber, and Dua Lipa. To get the look, two thin strands are plaited on either side of a centre part to create a face-framing appearance. It's an easy method to spruce up an understated appearance.
Sunburn Blush
This trend is all about adding vivid colour while keeping it natural and was inspired by actual sunburn. Having said that, to get the look all you need is a blush with a reputation for pigment.  Although the majority of TikTok users choose liquid blushes for the faux sunburn fad, choosing the proper high-pigment colour is more important. Powder blushes can be a great option as they can be built up well without appearing cakey. Application is crucial for this trend. Apply equal amounts of pigment to your nose and cheeks to give them colour. But keep in mind that you want to appear slightly sunburnt, not like you fell asleep in the sun.
Slugging
No, it's not some whacky Korean beauty trend that involves putting slugs on your face, although it did originate in South Korea. While slugging is nothing new; it's a common practice in K-beauty procedures and dates back more than a century, it is the latest K-beauty trend to take off around the world. 
The term 'slugging' is a direct reference to how slimy the activity is. The process is simple: after finishing your PM skincare regimen, apply a liberal amount of an occlusive emollient (most commonly Vaseline) or a heavy cream-based moisturiser. The technique aims to limit transdermal water loss in order to maintain moisture in the skin while you sleep.  
A-BEAUTY TIP: Sleeping on a silk pillowcase will maximise the benefits of slugging, as silk doesn't absorb your skincare products as much as cotton does

 
Bouncy blowouts
Voluminous hair is once again experiencing a rebirth after years of bone-straight manes in the 2000s. Although you may remember this style from back in the day, TikTok has brought it back to the mainstream with a vengeance. The beauty of a blowout is it's voluminous, easy-to-maintain, and seductive. The more bouncy, fluffy and big it is, the better!
As for recreating the TikTok beauty trend, you have options: some influencers use a set of heat rollers or a blow-dryer brush, while others opt to DIY and utilise an old, rolled-up t-shirt.
Soap brows
Fluffy brows, commonly referred to as 'soap brows', are the (welcome) reverse of many other Y2K-inspired trends that resurfaced in 2022. Unlike the overplucked, ultra-thin brows that were in style in the early 2000s, the fluffy brow style highlights a fuller, more natural appearance. Since brow lamination has become popular in recent years, people have started trying to replicate the aesthetic at home. Enter 'soap brows'. True to its name, to get the look you simply use a bar soap instead of brow gel. The idea is that the brow hairs stay in place longer, thanks to the soap coating, so you can shape the strands however you like and be confident that they'll stay flat throughout the day.   
Gua Sha
Originating in China, gua sha is not the first ancient Chinese beauty tool to gain popularity in the western beauty market; Gua sha is the name of both the tool and the therapeutic procedure used in traditional Chinese medicine (TCM). Its origins are the Chinese characters for 'scrape' and 'sand', respectively (though sand refers to raised redness on the skin here, not actual sand). Gua sha is a foundational form of massage that uses slow, steady strokes to lift, tone, clear, and brighten the face both immediately and with improved outcomes over time.
Skin Cycling
After retinol became the most-talked about active in the skincare world a few years ago, you'd be hard-pressed to find anyone who doesn't use one. But! So many of us have gotten so caught up in the hype that we've been completely overusing our vitamin A serums and instead of flawless skin, our complexions are angry. Like red, irritated kinda angry. That's where the skin cycling trend comes in. Driven by skin experts who know better, the trend requires you to commit to a four-night schedule. Night one you exfoliate, night two you can use your go-to retinoids, then on nights three and four you take a break. On these recovery nights, the idea is you focus on hydration and barrier repair instead. Hello, happier, healthier skin. 
SPF Contouring
SPF contouring involves a strategic placement of sunscreen to the areas of the face where you'd normally apply highlighter to define prominent facial features for sharper-looking cheekbones and the appearance of a more defined nose bridge. While some versions of this trend only apply sunscreen to the intended highlight spots, others begin by applying a typical base layer of sunscreen to their entire face before adding additional sunscreen to the areas in which they'd like to highlight to achieve a "naturally contoured look." We recommend the latter as it's essential that you apply SPF all over your face for sun protection.
Bleached Brows
Bleached brows are truly the newest craze, and there's no sign that they are on the way out any time soon. The style dominated fashion week where models, including Bella and Gigi Hadid, sported bleached eyebrows as they strutted down the catwalk at Marc Jacobs' fall 2022 fashion show. More celebrities have since joined the trend: Celebs like Halsey, Lizzo, Julia Fox, Kim Kardashian, and Kendall Jenner are just a few that have adopted this unusual fad. After the bleached brow trend gained popularity on all social media sites, but particularly on TikTok, the video-sharing app introduced a filter that gives users the appearance of having blonde eyebrows.
Graphic liner
While a classic winged eyeliner look is always a wonderful choice, occasionally it's nice to switch up your go-to makeup techniques for something a bit more original. The graphic eyeliner trend gives you the freedom to play around with your appearance by emphasising your eyes with vibrant colours and geometric designs. With its vivid colours, geometric forms, and limitless application options, graphic liner is the ideal method to enhance your makeup look and showcase your artistic ability. With enough effort, even someone who has never used eyeliner before may master the graphic liner effect.
Curtain Bangs
Curtain bangs are a shaggy, carefree style that, as the name implies, wonderfully frames your face like a curtain would a window. Although the style has roots in the 1960s and 1970s, its modern TikTok interpretation works with a variety of textures and styles, including messy waves, wavy shags, elegant blowouts, high ponytails, and more. Curtain bangs are great because they give hair movement and a sweet retro vibe. Since they rest just above your cheeks, they can also create the appearance of higher cheekbones. 
Body Glitter
This body-highlighting makeup trend, which was popularised by '90s style icons like Britney Spears, is back. Spray body glitter is currently all the rage on TikTok and is a simple, quick, and inexpensive way to add some 90s glitz or sparkle to any appearance. The 2022 version of this glitter trend is more about enhancing and highlighting, rather than dousing your limbs in copious amounts of glitter gel.
Nature's Cereal
Have you spotted this colourful wellness trend on your social feeds? After American musician Lizzo tweeted a video of her breakfast—a bowl of berries, pomegranate seeds, coconut water, and ice cubes—the hashtag #NaturesCereal started trending. Since the original post, there have been even more new variations. Other versions include replacing the coconut water with oat milk, pineapple juice, orange juice, or even coconut milk. Some people also add mint or a squeeze of lime to the mixture.
A-BEAUTY TIP: Boost your 'Nature's Cereal' even more with a sprinkle of supplement powder on top

 
The Wolf Cut
The wolf haircut, one of this year's biggest hair trends, is all thanks to TikTok. The wolf cut is a tapered haircut that features short, jagged layers that start at the crown and gradually lengthen towards the ends. It incorporates elements of the updated mullet, the chopped emo/scene haircuts from the 2000s, and the 1970s shag cut. One of the reasons its taking off is it suits the majority of facial shapes because the overall length of the cut and the layer height can easily be customised.
Journaling
We are healing ourselves from the inside out more than ever thanks to the rebirth of the self-care movement. Incorporating self-care practices into your day can make you feel better mentally prepared to handle daily tasks. Journaling, which combines day planning, a diary, and written meditation, is a good illustration of this. Providing time for reflection, organisation, and meditation is believed to promote awareness, increase productivity, and lead to a more fulfilling life.
Quiet quitting
The newest wellbeing craze to sweep the Internet is focused on preventing burnout and handling pressure at work. Known as quiet quitting, the TikTok craze emphasises the importance of mental wellness at work. In short, quiet quitting is about going into work, doing your job, leaving, and nothing beyond that. For some people, the phrase 'quiet quitting' merely implies setting limits on what is expected of them at work and committing to maintaining a healthy work/life balance. For others you may need to fundamentally alter how you approach you job and incorporate some boundaries for the sake of your mental health.
Pilates
Pilates is nothing new. But in recent months, influencers all over TikTok are re-selling us on its benefits, claiming that it assisted them in losing weight and toning their muscles in ways that weightlifting did not. Pilates is a type of strength exercise that places a focus on developing core strength, regulated motions, and movement patterns rather than just moving the most weight or performing the most repetitions. In these ways, it resembles specific kinds of 'functional' training using kettlebells and foam rollers, but through a distinct set of exercises.
Meal prepping
TikTok has not just rekindled interest in meal planning, it's also become the go-to resource for quick and easy recipes and inspiration. With more and more of us transitioning from WFH to being back in the office, along with the rising expense of living, it's no wonder everyone is jumping on the meal prepping bandwagon.
Prioritising Gut Health
Gut health 'hacks' have taken over TikTok. When discussing their personal gut health adventures, many #guttok influencers highlight symptoms like bloating, brain fog, and low energy. And viewers are drawn to these intimate, relatable videos.