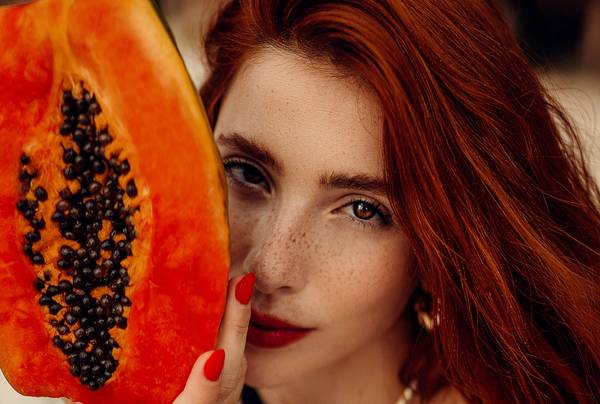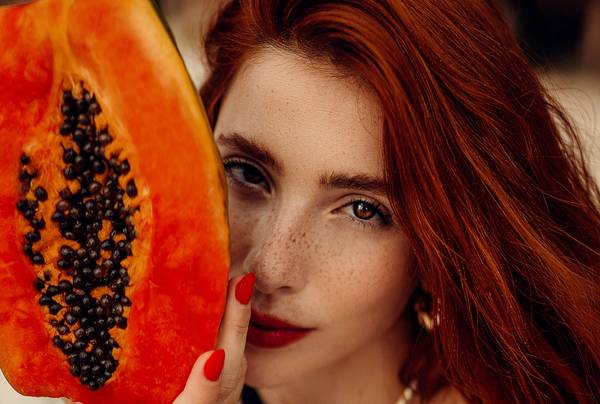 Some ingredients need no introduction, like vitamin C, retinol, hyaluronic acid and niacinamide. We're all too familiar with them and the amazing benefits they offer our skin. But every now and again an ingredient flies under the radar when in actual fact it deserves way more attention: Papaya fruit extract is one such example.
Great for your skin, papaya fruit extract works as a natural moisturiser and can help lighten dark spots, fade pigmentation, soothe inflammation, and treat acne. 
What is papaya fruit extract?
Papaya fruit extract comes from unripened papayas. Packed with nutrients like vitamins, minerals, enzymes, and antioxidants, it's incredibly beneficial for your body when eaten, as well as for your skin when applied topically.
How do papaya fruit enzymes work?
Papaya contains an enzyme called papain that can help heal and enhance the skin. This fruit enzyme helps to gently break down dead skin cells that accumulate on the skin's surface, leading to a dull and congested complexion. It has anti-inflammatory properties to soothe skin, and its combination of enzymes, phytochemicals and high beta-carotene content work together to remove and repair damaged cells and promote skin healing and healthy tissue growth in its place.
When used topically, papain can increase collagen secretion, which is vital for maintaining healthy skin and improving skin elasticity. Collagen also reduces wrinkles and increases skin hydration. And that's not all! Papaya has antioxidants that can prevent the production of free radicals, making it an excellent anti-ageing agent.
---
Top 5 benefits of papaya extract skincare
#1 / Manage blemish-prone skin
Papaya works in a number of ways to help reduce acne. Its potent fruit enzyme papain gently exfoliates the skin - for blemish-prone skin it's great for cleansing clogged pores and controlling excess oil. Papain's antimicrobial properties also help with wound healing and fighting bacteria, so it works a treat on acne scarring and inflamed skin. 
#2 / Exfoliate skin
There's a reason papaya fruit extract is most commonly found in cleansers and exfoliants. The active enzyme in papaya (aka papain) is packed with alpha hydroxy acids (AHAs) that aid in the exfoliation process by breaking down dead skin cells and promoting cell renewal to reveal a smoother and brighter complexion. The beauty about papaya enzymes is that as a natural exfoliant it's not as harsh on skin as chemicals or physical scrubs, so even sensitive skin types can use it.
#3 / Fade pigmentation & dark spots
In case you weren't yet convinced that papaya is an all-round super skincare ingredient, it's also a good source of vitamins A and C. And you know what that means: it can help naturally brighten your skin, reduce the appearance of hyperpigmentation, and protect the complexion from future UV damage and premature ageing. Papaya's exfoliating properties also contribute to evening out skin tone and minimising the appearance of dark spots.  
#4 / Moisturise skin
Packed with all the right properties (such as antioxidants, vitamins and enzymes) to maintain healthy hydration in skin, papaya fruit extract is a superstar when it comes to moisturising skin. Rich in vitamin E to promote hydration in the deep layers of the skin, along with potassium to maintain the skin's natural moisture balance, it works on multiple levels to keep your skin plump and nourished. Your skin will especially thank you for the addition of papaya-infused skincare in winter when it's most prone to dryness. 
#5 / Reduce wrinkles 
Papaya delivers some impressive anti-ageing benefits for skin. Rich in antioxidants like lycopene, and vitamins A and C, it stimulates collagen and elastin production to improve wrinkles, promotes healthy skin ageing, fights free radical damage, and leaves skin firmer. It also accelerates cell turnover to improve overall skin texture. 
a-beauty's Papaya Fruit Extract Edit
Habitual Beauty Balancing Cleanser 
A gentle gel to light foam cleanser that cleanses and removes excess oil, makeup and surface impurities while maintaining a hydrated, healthy-looking complexion.
Vanessa Megan Papaya Enzymatic Foaming Daily Cleanser
The rejuvenating properties of papaya papain enzyme in this luxe foam cleanser helps regenerate dead skin cells, leaving skin fresh, clean and radiant.
Hunter Lab Lipid Vitamin Cleansing Oil
For skin that's on the drier side but still craves a good clean, this cleansing oil by Hunter Lab is a must try. It contains papaya fruit ferment extract to nourish skin while it gently exfoliates the skin's surface and melts away impurities and dirt.
Dermalist Ultra Hydrating Lactic Cleanser 
This oil-based cleanser uses emulsifiers to efficiently break down makeup, impurities and pollution to reveal skin that is perfectly pH balanced, beautifully soft and ultra-hydrated.
Cinch Sleep and Glow
Let the potent powers of papaya fruit extract improve your skin while you sleep with this 5-in-1 overnight mask. With the help of papain, it cleanses, exfoliates, brightens, hydrates and smoothes fine lines with every application. 
Tribe Resurfacing 2-1 Exfoliant
If you're struggling with acne, this 2-in-1 exfoliant will help you get your breakouts under control. The combination of fruit enzyme exfoliation (courtesy of papaya) paired with its gritty texture for a simultaneous manual scrub will help gently yet deeply clean your skin and unclog pores.