I love a good serum (or four), and boy are there a lot to choose from out there. But if there's one type I've been hearing plenty about lately it's vitamin C serums. It's one of the top recommended serums by dermatologists who regularly claim everyone can use one and benefit from them.
The problem is, vitamin C is actually a super volatile ingredient so finding a good vitamin C serum can be very hit and miss - especially if you have sensitive skin, which I tend to have off and on. Now that the weather is getting cooler, my skin's sensitive side is starting to take over so I tend to overhaul my skincare at this time of year to address an increase in dryness and irritation.
When I was asked to trial one of the bestselling products by Tribe Skincare - the latest brand to join our a-beauty ranks - I was glad to hear that it had been specifically formulated with sensitive skin types in mind. Also, since I'm currently pregnant, so I'm conscious that melasma (aka dark spots) is a common side effect in the second and third trimester due to a dramatic increase in the levels of estrogen and progesterone. So the timing of being tasked with trialling the Tribe Brightening Vitamin C Serum couldn't be more perfect as vitamin C is the perfect preventative ingredient to add into my pregnancy skincare routine.
Here's an overview of everything you need to know about vitamin C serums, what sets the Tribe Brightening Vitamin C Serum apart from others, and my honest review of this vitamin C serum for sensitive skin.
---
Who is Tribe Skincare?
I love it when we add a new brand to our line-up of curated Australian beauty brands. There are so many incredible brands born out of Australia and one of my favourite things about my job here at a-beauty is shining light on some of the well-known and also lesser-known brands and introducing them to all of you. Tribe Skincare is an Aussie skincare and makeup brand that up until a little while ago, I'll admit I had never heard of. 
Tribe Skincare is an Australian made and owned skincare brand that has been specifically formulated to be super gentle on sensitive skin while still delivering impressive results in as little as two weeks. Its vegan formulas are free from harsh chemicals that are known to irritate sensitive skin. Instead, they're packed with natural anti-inflammatories to even the skin tone and make skin glow.
What is vitamin C?
Vitamin C is a naturally occurring antioxidant that is popular in skincare formulas because it aids your skin's natural regeneration process. When applied topically, vitamin C works to prevent and reduce damage to our cells caused by daily aggressors like UV damage and exposure and air pollution. It is essential for helping keep our body and skin cells healthy.
The skin benefits of a vitamin C serum
Vitamin C is a great all-rounder skincare ingredient that delivers a lot of impressive benefits to skin. It helps protect the skin from free radicals, stimulates collagen production, and reduces hyperpigmentation.
Exfoliates and brightens
One of the top benefits of vitamin C is its ability to make skin look brighter. Vitamin C is an acid so it has great exfoliating properties. It can help remove dead skin cells to reveal smoother, softer and brighter skin. By aiding in cell turnover, vitamin C also works to minimise the appearance of fine lines. Plus, it can help to inhibit melanin production and leave you with brighter-looking skin. 
Protects against free radicals and sun damage
When the skin is exposed to UV light, it produces free radicals that can lead to the appearance of wrinkles, pigmentation, and a loss of elasticity. Vitamin C is a known potent antioxidant that can neutralise free radicals. A vitamin C serum can help protect skin against sun damage and aid skin in repairing UV damage.
Improves collagen production
Another benefit of vitamin C's highly acidic properties is it helps trigger skin to heal itself by accelerating the production of collagen and elastin - both of which are essential for keeping skin plump and firm. Because of this, vitamin C's ability to promote collagen production makes it a go-to ingredient for preventing premature skin ageing.
Reduces hyperpigmentation
Hyperpigmentation (aka dark spots) is a common skin concern here in Australia, due to our regular exposure to the sun. It can also be caused by pregnancy, hormonal imbalances, genetic predispositions, and inflammation. Vitamin C can help reduce the visibility of pigmentation by inhibiting the enzyme responsible for producing melanin in the skin.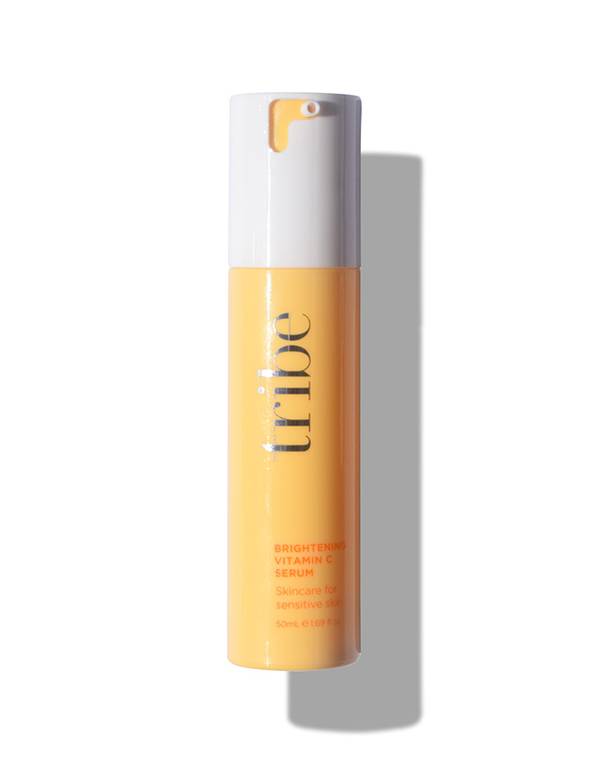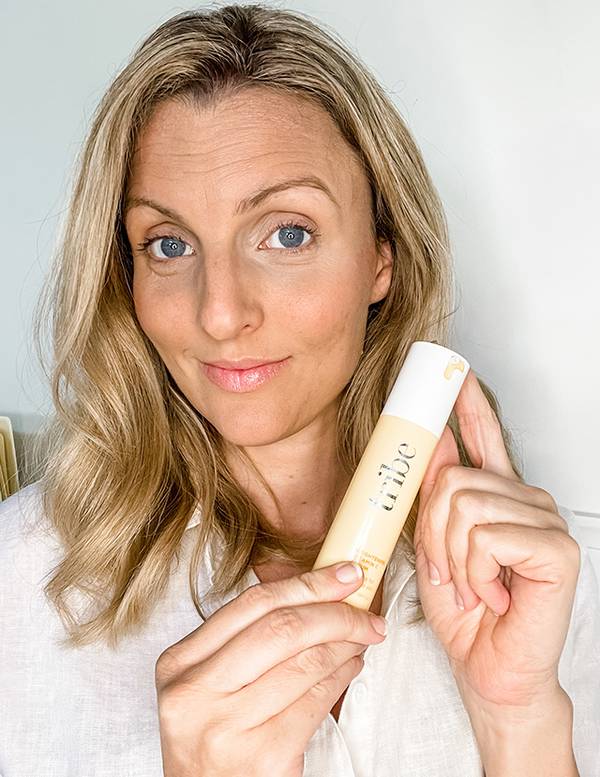 Who should use vitamin C?
Vitamin C is suitable for all skin types and ages, however, if you have sensitive skin then there's a risk that some vitamin C serums may cause irritation. The beauty of Tribe's Brightening Vitamin C Serum is it has been formulated for sensitive skin types so you can get the brightening, anti-ageing benefits of vitamin C without any inflammation. 
What to look for in a vitamin C serum
Given all the amazing skin benefits of vitamin C, it's no surprise that there are a lot of vitamin C serums out there to choose from. But there are a few important things to keep in mind before selecting one because they are definitely *not* all created equal. 
#1 It should come in an airless pump
Vitamin C isn't very stable so it breaks down when exposed to light, heat and air, which can leave it less effective and more likely to expire quickly. To get the best out of your vitamin C serum, opt for one that comes in an airless pump.
#2 It shouldn't come in a transparent bottle
Say no to clear bottles! Vitamin C oxidises in sunlight so for it to maintain its effectiveness, it needs to be in a bottle that's completely tinted or covered.
#3 Its formula should be clear not orange
A vitamin C serum should be clear or light yellow in colour, not dark orange. If it has any colour dye in it, you should be suspicious of why! 
A note about the vitamin C used in Tribe's serum
Tribe Brightening Vitamin C Serum uses a form of vitamin C known as ascorbyl palmitate. It is a stable, oil-soluble form of vitamin C that is made by combining ascorbic acid with a fatty acid known as palmitic acid. It is a less irritating form of vitamin C. The palmitate portion of this ingredient allows this vitamin C type to deliver hydrating properties that many other forms of vitamin C are not able to.
GOOD TO KNOW: Vitamin C's effectiveness increases when it is combined with other antioxidants, such as vitamin E. Together they deliver double protection against free radical damage.
Tribe Brightening Vitamin C Serum contains another type of vitamin C: Kakadu plum. Native to Australia, Kakadu plum is the world's richest natural source of vitamin C so you're getting a double whammy of vitamin C benefits with this serum. Tribe's serum also contains niacinamide (vitamin B3) to help even skin tone and protect against sun damage, and aloe vera to soothe and calm sensitive skin.
My Tribe Brightening Vitamin C Serum review
I was asked to put Tribe's best-selling serum to the test recently, and here's what I loved about the Australian vitamin C serum for sensitive skin:
The texture: It's a super lightweight gel that sinks into the skin quickly and leaves skin feeling instantly smooth and soft. 
How I incorporated it into my skincare routine: It's the perfect first-step serum in your morning skincare routine and I've been following it with a hyaluronic acid serum from another Australian brand and am loving the plump, glowing results this duo of ingredients deliver together. You could, of course, skip the second serum if you want and just layer a moisturiser over the top (the Tribe Ultimate Hydrating Moisturiser is a great choice because it already has hyaluronic acid in it!) and make sure you always finish off with a sunscreen to protect your skin and get the most out of your Brightening Vitamin C Serum. No need to use it at night - just in the morning is recommended.
The packaging: Its airless pump packaging is mess-free and super easy to use to get the ideal amount of product every time. I am also a big fan of its twist-to-lock feature: I took it away with me on a weekend getaway and didn't have to worry about it leaking in my toiletries bag. I also think the pastel orange packaging is so cute and love the luxe pop of colour it brings to my vanity.
What I love about it: As soon as I started using this serum I noticed my skin felt softer and it has a healthy radiance to it. I'm looking forward to using it for longer to see how it goes lightening my mild hyperpigmentation and evening out my skin tone. I also appreciate that it's been formulated for sensitive skin as my skin tends to play up in winter so I never know how it's going to react to a new product that I add into my regimen. I've had zero irritation with this Tribe serum.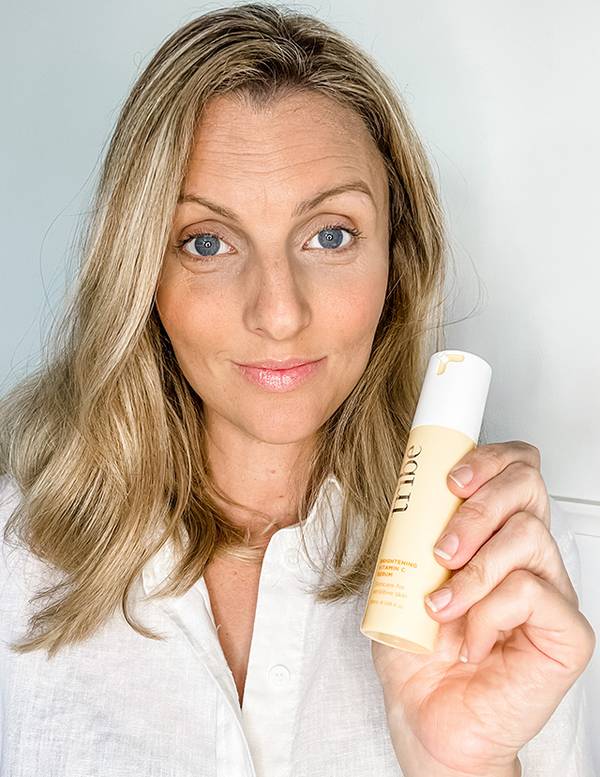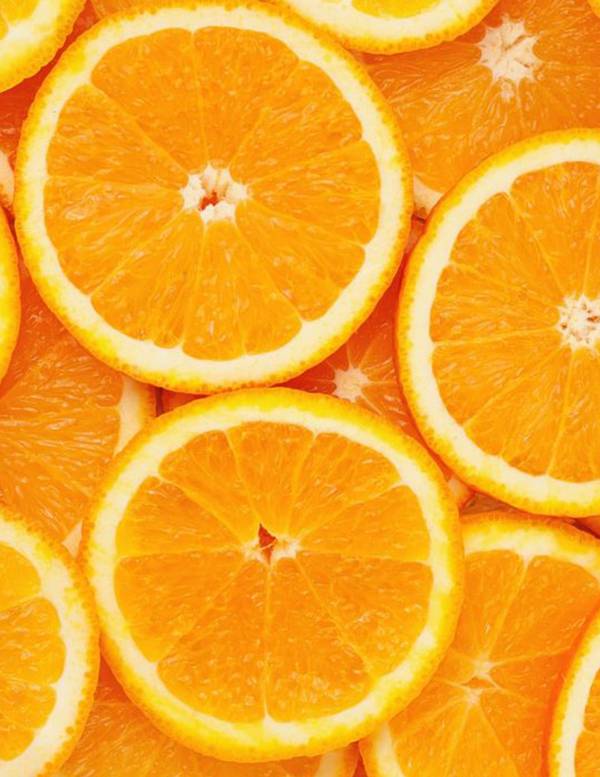 Tips for using a vitamin C serum
Don't apply it at the same time as an AHA, BHA, or retinoid. It can cause irritation and over-exfoliation, which can lead to skin barrier damage.
Always apply
sunscreen
after using a vitamin C serum for maximum skin protection. It helps avoid oxidation on the skin so you get the most out of your vitamin C application.
Never apply vitamin C serum onto an active pimple. It can aggravate the pimple and cause more inflammation.
Don't apply a vitamin C serum to wet skin. Hello, irritation!
Vitamin C and hyaluronic acid are a powerful pair when used together. For ultra hydrated, clear and glowing skin, apply your vitamin C serum first. Once it sinks in, layer a
hyaluronic acid serum
over the top.