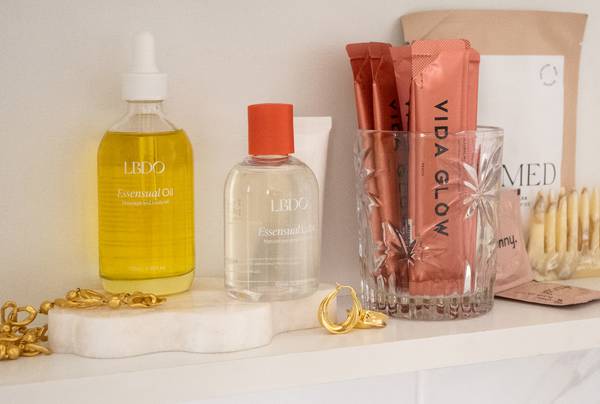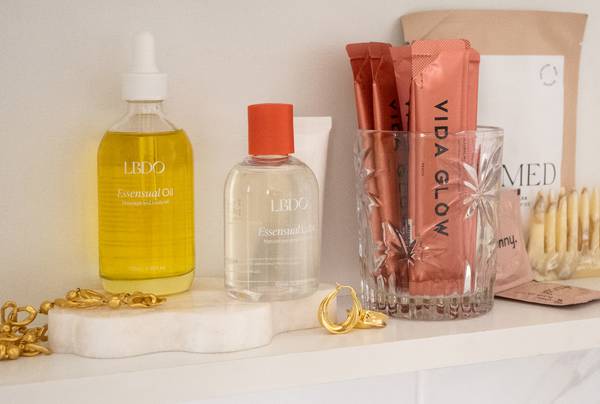 Trying new beauty products is all in a day's work for us here at a-beauty. We love putting products through their paces all in the name of glowing skin, better hair, fluffier brows, and everything in between. Every now and again there are products that truly impress us and earn themselves a permanent spot in our routines. 
In this series we share with you our current beauty obsessions for the month. 
Last month we did our best to prioritise self-care, but this month our busy lives have gotten the better of our beauty routines so we're all about time-saving products that help us look good and feel good on the go.
In March, our current go-tos are helping us get out the door sooner and keep on top of our skincare and wellbeing, without compromising on results or indulgence. Because even when we're busy, we still deserve to be pampered.
Here's what we're using and loving this month:
---
COURTNEY, DIGITAL DESIGNER
"I love The Vida Glow Marine Collagen in Peach! I have quite a busy lifestyle and being able to grab the sachet while heading out for the day means I don't miss out on my daily collagen supplement. The peach flavour is just the right amount of flavour: it's not too sweet and is so easy to drink."
CHELSEA, CONTENT EDITOR
"I am loving this moisturiser - it's as simple to use as spritz-and-go, making it the ultimate hydration fix when I'm in a rush. While super lightweight, the formula is surprisingly nourishing. I find a lot of hydrating mists leave my skin feeling tight as they dry on my skin's surface, but this honestly feels like a rich silky moisturiser in a weightless mist formula. And yes, it really does leave behind an instant glow on skin!"
TOP TIP: "While my skin feels ultra-hydrated with this product alone, I love layering the Pump & Glow face cream over the top for extra soft and plump skin, morning and night." 
JAMEE, FOUNDER & CREATIVE DIRECTOR
"This product has that luxe factor that you expect with Sodashi. I tend to get a bit lazy with my skincare regimen - busy working mother and all - so eye and lip care to me often falls to the bottom of the list.
When I do get a bit of a chance to experience some self-care time, I like to add this into my skincare steps after a mask and before I go to bed. It leaves my lips and eye area feeling hydrated and smooth."
SINEM, E-COMMERCE MANAGER
My March obsession:
MV Skintherapy multiBALM
"I absolutely love my MV Skintherapy multiBALM, especially now that the weather is a bit drier. As soon as my skin or lips feel a bit dry, I pop the smallest amount on and it hydrates my skin so quickly. I keep it on me at all times. It's a good little cross between a lip balm and an intensive  moisturiser on the go. Perfect to keep in your bag."